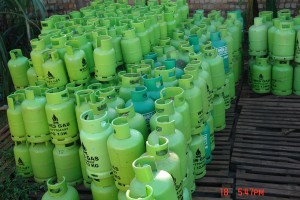 Wana Solutions (U) Ltd (WANA) formed in 2008 is an indigenous One Stop Company registered in Uganda. Its business is in the Marketing and Distribution of Liquefied Petroleum Gas (LPG) business in all the six divisions of Kampala, suburban areas including Entebbe, Wakiso, Mityana and Mukono district urban and suburban centres with a view of expanding to other regions in the near future.
The Company is a major player in the LPG industry in Uganda with a capacity of 10MT storage tank and we are well centred to supply your LPG needs year around. WANA provides households and businesses with cooking energy from LPG through distribution of affordable cylinder LPGas ranging from 6kg to 1000kg, hosepipes, regulators and a range of cookers from 1 burner to four burners. Light commercial companies benefit from our bulk installations expertise. It is claimed that by switching to LPGas, households, and light commercial companies are able to reduce their energy bill by 15%.
This is because Wana provides households and businesses with a cost effective substitute to the current energy sources of (Paraffin, charcoal, firewood and electricity). Wana provides a door to door delivery of LPG cylinder and bulk installations to organised homesteads, and light commercial companies such as hotels, hostels, hospitals and schools.
Our customer base is ever growing
Sheraton Hotel – Kampala
Paragon Hospital – Bugolobi
Newrest Uganda In-flight Services – Entebbe Airport
Seven Seasons – Entebbe
Mishmash Restaurant – Kampala
FAZE3 Bar and Restaurant – Entebbe
Kuka and Company – Kampala
Mediterranean – Villa Kololo Hotel / Restaurant – Acacia Avenue
Boys Holdings Hotel – Bugolobi
LPG is widely recognised as an efficient, readily available and affordable form of energy which has the capacity to replace the current methods of cooking and heating used in domestic and light commercial industries in Uganda.
1.2 Expertise
The stakeholders can easily benefit from our brand (Wana energy Solutions Gas (WeSGas') expertise of installation and distribution of LPGas. WeSGas provides a flexible basis for the development of high quality service provision.  The coverage of WeSGas services includes:
Risk Assessment
Distribution of LPG      to people's homes within the designated homes or estates
Installation of      bulk LPG Tanks
Preparation of      Service Level Agreements (SLA) between customers and WeSGas
Collection of      Revenues through the use of Smart IC Card Meters for bulk LPG users,      especially estates
Capacity Planning      and Management of its services
Running Helpdesks      for emergency services
Security Management      of the installed tanks
Disaster Recovery      Planning for both bulk and cylinder customers
And health and      safety of her appliances
1.3. Company Website:
For additional information on WANA please feel free to access our website and affiliates at www.waesol.com, www.pciaonline.org, www.worldlpgas.com, www.esmap.org
 1.4 Prices:
Uganda is a landlocked country and therefore all our petroleum products are imported. For these reason, WANA does not have full control on the petroleum price fluctuations for example landing costs, duty, exchange rate, and freight. These changes have advance effect on our end users. We shall endeavour to communicate to you applicable prices each time you wish to place an order. As always we ensure that our prices are competitive in the market. For our bulk consumers, we have also established a price stabilisation undertaking. This is discussed in details before contract of supply is signed.
1.5. Delivery Time:
We run a "Watchman" system where by the system detects the quantities of LPG in the bulk tank and informs you and immediately this information has to be relayed to the WANA so that we are able to supply Gas in 24hrs after notifying us.