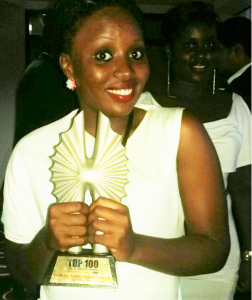 On Friday 13th November all roads led to Hotel Africana where The Top 100 Medium Sized Enterprises were recognised for their steady progress in their businesses.
Wana Energy Solutions came at a respectably 11th position. This is a major achievement for the home grown Liquefied Petroleum Gas business in the country. Wana was established in 2008 as a distributor and marketer of LPG in Uganda and was among the 66% of home grown companies out of 400 which participated in the survey.
The survey was co-sponsored by Stanbic Bank Uganda Limited, Insurance Company of East Africa (ICEA) group, NTV Uganda and an International Audit and Financial Consultancy firm KPMG. The survey companies surveyed met the criteria of revenues between 360m Uganda shills per annum to a ceiling of 25 billion Uganda shillings. Dr. Emmy Wasirwa, the Managing notes, "honestly speaking being nominated was an unbelievable experience and actually wining the top 100 SME Award was really breath taking". Standing on the stage in front of a tremendous gathering was a lifetime experience for the Wana team. But winning is usually a privilege and it goes a long way.
At Wana we do what we do because of passion and the ultimate measure of a person is not where they stand in moments of comfort and convenience, but rather where they stand during times of challenge and crisis. Mr. Wasirwa added "we do not do what we do so that we recognised by our stakeholders however being recognized by others across an entire region is an extraordinary moment.